Door Hangers and Parking Tags
How To Get Started With Plastic Business Card
Here are the steps to getting started.
Step 1

Ordering Hangers and Parking Permits is EASY! Start by downloading the template size and shape that you want to use. . If your card uses personalized information, learn how easy it is to prepare your data by reading the "Variable Data" Tab.

Step 2

Configure your Hanger or Parking Permit in our calculator selecting the quantity, one sided / two sided, hanger size and shape, final thickness, variable data and layout service options to determine the pricing for your order.

Step 3

Send us your file and order and sit back and wait for your new hangers to arrive! That shouldn't take to long because we ship all orders within 2 business days of your final approval.
Plastic Cards Articles & PRO Tips
Plastic Card Artwork Instructions
Custom Dies
We can die cut your Hanger into any shape. We have many dies available or we can make a new die based on your design. All our standard dies are available for our 48 hour shipping program. If we need to create a new custom die your order will take an additional 3 days and there will be an additional charge.
Variable Data
Because we digitally print our plastic cards, we are able to provide full color variable printing anywhere on the card. Most plastic card manufacturers, print their cards on an offset press and use a black and white inkjet process to imprint variable information in open white areas. This process is much more limited and the inkjet quality does not compare with full color digital printing. Unlike inkjet, we can use variable printing of text or images in any color in any area.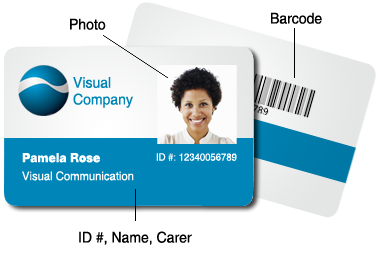 To do a variable project, we need an excel (or delimited) file that has a row for each card and a column for each variable field. Here is an example of a typical layout and data file. If you are using variable photos, signatures, logos or other images, you need to make sure that each file is IDENTICAL in size both in height and width. If the image file is off by a single pixel, the design will be off. The images are inserted automatically not hand placed so errors in sizing will not be seen until the job is completed.
You should place the name of the image file in the Excel file and place the images together in a directory called "Images". In the example above, the image "p.rose.jpg" is the file name for the image file placed in the images directory and is listed in the row for Pamela Rose in Column "E". We are experts in variable data printing and can assist you on your project.
Custom Quote Plastic Cards
Please, filled the following form and we will send you your plastic card custom quote